Refinish Your Cast-Iron Tub
There are ways to refinish tubs that are far cheaper than buying new, and the results are great.
RICHARD WEIRTHIS OLD HOUSE MAGAZINE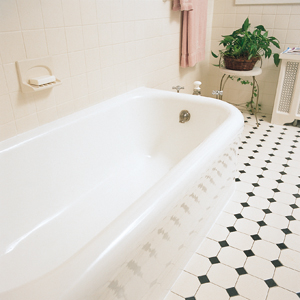 When scouting out my current apartment, I was immediately drawn to the oversize bathtub — a real soaker from an era when bathing was savored and showers described rain. But my elation quickly ebbed once I eyed the rusty gully along its bottom, the work of a persistent leak that had eroded the white porcelain and exposed the tub's cast-iron shell. The building's super promised to fix it — and fix it he did, by slapping on some latex paint that flaked off every time I settled in for a warm bath. The super's methods were suspect, but he was essentially on the right track in trying to save the tub by recoating its surface.
"People very often rip out old tubs because they're slightly blemished," says Richard Trethewey, This Old House plumbing and heating expert. "But it's not easy to find an affordable bathtub with the look and size of a period tub."
Each year refinishing shops across the country rescue thousands of tired old tubs and sinks by spraying on an acrylic urethane resin coating. Done correctly, either off-site in a shop or in place, refinishing is an effective and inexpensive solution for porcelain that is chipped, worn rough, or whose color has simply gone out of style. For an average cost of $350 to $500-a fraction of the $1,200 to $5,000 expense of a new cast-iron or steel tub installed — refinishers can make an antique fixture look brand new. "Professional refinishing can be a cost-efficient solution for that retro look," Trethewey says. That's what Jackie Metropoulos chose to do, and hired Scott Ayers, a technician for the Miracle Method franchise in Ludlow, Massachusetts, to resurface the old cast-iron bathtub in the 1919 house she and her husband, Matt, own in Longmeadow, Mass. Their second-floor bathroom has a mix of old charm and new shine, but the mounted tub looks and feels weathered, with a green water mark under the faucet, several nasty dings on the lip, and a dull, gritty texture from years of improper cleaning.
Read the rest on ThisOldHouse.com
Are you in need of a Chicago Bathtub Refinishng Expert?