Changing the Color of Tile
HOST KEVIN O'CONNORTHIS OLD HOUSE MAGAZINE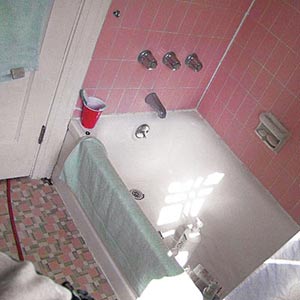 Q: Reglazing is impossible, but color-changing options include painting and professional refinishing
A: Q: I want to change the color of the pink tiles in my bathroom. Can I have them reglazed?
—John Sawyer, by e-mail
Kevin O'Connor replies: According to Mark Ferrante, a tiling contractor who often works with This Old House, the only way to reglaze your tiles would be to crank up the heat in your bathroom to 2,300 degrees for several hours. But there's an easier way to get rid of the pink: with paint.
Another approach is to turn the job over to a company that specializes in refinishing tubs as well as tile. The process, as explained by Pam Johnson of Miracle Method, involves spraying on a proprietary primer and several coats of a pigmented, catalyzed acrylic urethane, which is then buffed to a glazelike sheen. The surface carries a five-year warranty. Says Johnson, "It's quite durable, but it's not bulletproof."
With either method, the grout and tile have to be in perfect shape because the coatings will magnify any imperfections. ­Also, all the grout lines will end up being the same color as the tile. So if you want the grout to be a contrasting color, you'll have to install new tile.
Are you in need of a Chicago Tile Refinishing Expert?